James Joyce (1822-1941)—also known as Mr Germs Choice (I opened the window and in flew Enza).

Ulysses is the comedy.

His novel A Portait of the Artist as a Young Man, his poems, and the short stories in Dubliners are especially recommended.

Ulysses fans: see at the Last Pink edition of the Dublin Evening Telegraph for 16 June 1904: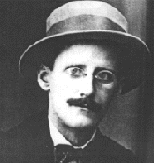 ...a jar of Irish Model Dairy's cream, a jug of brown crockery containing a noggin and a quarter of soured adulterated milk, converted by heat into water, acidulous serum and semisolidified curds, which added to the quantity subtracted for Mr Bloom's and Mrs Fleming's breakfasts made one imperial pint, the total quantity originally delivered, two cloves, a halfpenny and a small dish containing a slice of fresh ribsteak. On the upper shelf a battery of jamjars of various sizes and proveniences.


—James Joyce,
AKA Jam Jars, Ulysses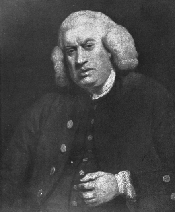 Samuel Johnson (1709-1784)

The only just cynic,
or realistic optimist:

"Honesty is not greater where elegance is less."

"There are few minds to which tyranny is not delightful."



"There is no kind of idleness by which we are so easily seduced as that which dignifies itself by the appearance of business."

"Depend upon it that if a man talks of his misfortunes, there is something in them that is not disagreeable to him."

"Human life is everywhere a state in which much is to be endured and little to be enjoyed."

"He who makes a beast of himself gets rid of the pain of being a man."